| EVENT | DESIGN | PRODUCTION & INSTALLATION |
Olympian City II
AIA FOREVER LOVE ROADSHOW
Bustling and hustling everyday, pause a while and get through the Life Game, but what's next?
| DESIGN |
Insurance policy has been a crucial protection to most people, however, the topic itself would be very dreadful to most people when it comes to mathematics and theories. In order to provide a peace-in-mind ambience to the visitors, we have depicted a Life Event to address the unique consideration and exposure needed at different stage of life.
3-meter tall ferris wheel, mimicking The Hong Kong Observation Wheel, structured upright at the venue, with the sparks of lightning effects to mimic the every important chapter of life, newborn baby, blissful marriage, bright career, and ecstatic retirement were hand-drawn by our team on the fiber glass. The setup provides a very good ground for photo opportunities – It starts from Baby stage with milk bottle and a pair of rabbit balloons, where most kids love. Continuing with Love and Marriage, we proposed a pair of couple mugs, together with a gigantic heart from the suggestion of our client, and to be more expressive, different languages of "I Love You" were included. Hiking up to the career golden time, coffee has been one of the substances that help on the establishment, and to highlight this important partner, we have our production team to magnify the coffee beans 10 times for its essentialness. Retiring for a cozy life with the best cup of tea for a hassle-free and less hectic enjoyment.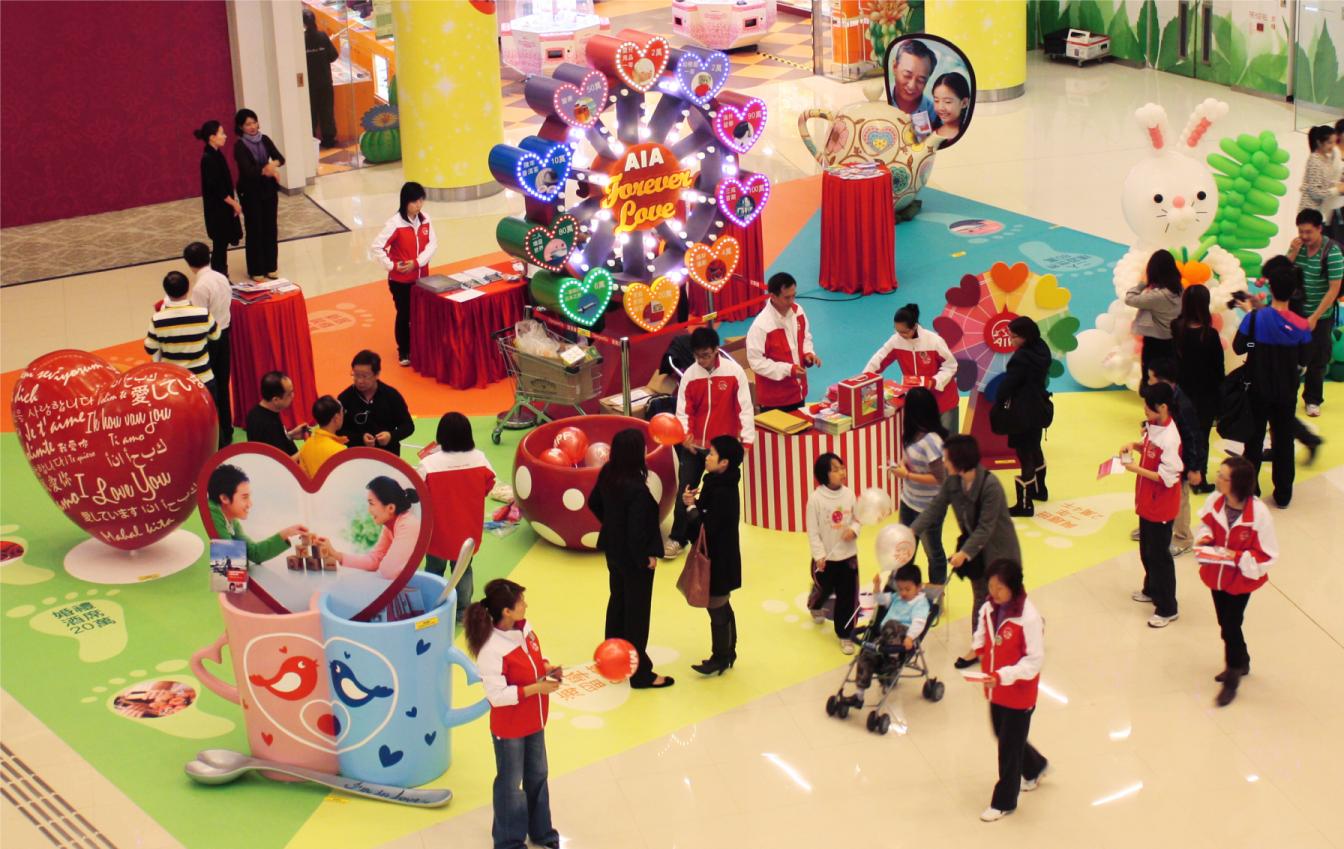 | TAKE-AWAY |
Vibrant and colourful installations draw the attention from the passersby. There was a few dedicated timeslots over the weekend to have onsite balloon twisting and selfie-badges making services. Life Event has been zoned by different stages, infant, work, marriage and retirement, it was intended to demonstrate how AIA would have helped providing relevant policy protection. All these setting provide the financial planners with a chance to interact with the passer-by when they were having photo-taking and amusement.